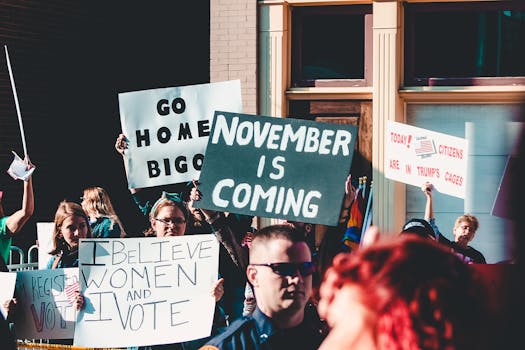 Like many Americans, I watched the Brett Kavanaugh hearings last week. The hysterical behavior of Kavanaugh, Lindsey Graham, and Orrin Hatch, among others, turned the hearings into a pageant of perceived male victimization. For anyone who doesn't benefit from white male privilege, the performance was a disgusting slap in the face–a reminder that many of our political representatives prefer to believe an angry, unhinged man rather than actually investigate a credible accusation.
Trump's comments yesterday at the swearing-in ceremony demonstrated the hold white male patriarchy still has on America. Trump gave his new friend a tongue-bath, declaring him "innocent" and apologizing for his having to endure questions at a job interview.
Even if an investigation revealed no evidence of a sexual assault, Kavanaugh's behavior at the hearing showed a man who can't control his emotions, can't hold up under pressure, can't defend himself without resorting to rage, and can't address issues without bringing in his personal biases. Can you imagine if a woman had reacted that way? Or a person of color?
So, yeah, it's a troubled time in America. My plan–besides voting–is to start reading more books that help me understand perspectives that our politicians desperately want to silence.
Below is a list of books I plan to tackle. What are you going to read?
"In Living a Feminist Life Sara Ahmed shows how feminist theory is generated from everyday life and the ordinary experiences of being a feminist at home and at work. Building on legacies of feminist of color scholarship in particular, Ahmed offers a poetic and personal meditation on how feminists become estranged from worlds they critique—often by naming and calling attention to problems—and how feminists learn about worlds from their efforts to transform them."
  "In Asking for It, Kate Harding combines in-depth research with a frank, no-holds-barred voice to make the case that twenty-first-century America supports rapists more effectively than it supports victims. From institutional failures in higher education to real-world examples of rape culture, Harding offers ideas and suggestions for how we, as a society, can take sexual violence much more seriously without compromising the rights of the accused."
  "In this charged collection of fifteen essays and speeches, Lorde takes on sexism, racism, ageism, homophobia, and class, and propounds social difference as a vehicle for action and change."
"Anxious about her prospects after leaving a stagnant job, Tambudzai finds herself living in a run-down youth hostel in downtown Harare. For reasons that include her grim financial prospects and her age, she moves to a widow's boarding house and eventually finds work as a biology teacher. But at every turn in her attempt to make a life for herself, she is faced with a fresh humiliation, until the painful contrast between the future she imagined and her daily reality ultimately drives her to a breaking point."
P.S. If you want strong women in leadership, consider donating to Heidi Heitkamp's campaign. She had the guts to stand up for her convictions at the risk of losing her senate seat next month. I'm proud to be a North Dakotan.